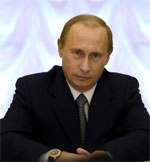 Screen Name:
Earl Grey
Earl Grey has published 741 items on The Spoof.
Check out Earl Grey's:
Latest Spoof News Story: Wednesday 3rd November 2010
Spoofing since: Thursday 19th June 2008

Location: Moscow
Profile: This page has been closed. This is due to anti-Russian activities which are not tolerated. In the all-new democratic Russia everyone is free to obey me. They will watch television programs approved by me. They will read newspapers approved by me.

And they will view websites approved by me.

We know where you live. Soon there will be a knock at your door.


Siberia is waiting.
Earl Grey's RSS News Feed
Earl Grey hasn't written anything in a while, so his/her news feed is seriously out of date!
If you want the latest up-to-the-minute spoof news, check out all our rss feeds.
While you're here, why not check our other Top Writers?
And if you've still got time on your hands, consider joining us as a writer, and make up your very own news stories!