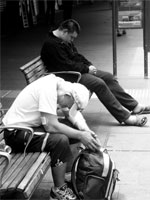 Screen Name:
Hung Liikdahorzen
Hung Liikdahorzen has published 4 items on The Spoof.
Check out Hung Liikdahorzen's:
Latest Spoof News Story: Wednesday 7th May 2008
Spoofing since: Saturday 3rd May 2008

Location: Louisiana, USA
Profile: Perhaps the singularly most dissapointed person with an internet connection. Married once, still married, life is fine. Good Job, good House, Good Wife, I can find nothing to be victimized by or be a victim of. I feel so left out that I am considering calling the ACLU to sue all of the people, groups, and companies who aren't oppressing or victimizing me, just so I can feel like the rest of America. It's hard to fit in with a country of victims when noone will put a boot on the back of your neck.
Hung Liikdahorzen's RSS News Feed
Hung Liikdahorzen hasn't written anything in a while, so his/her news feed is seriously out of date!
If you want the latest up-to-the-minute spoof news, check out all our rss feeds.
While you're here, why not check our other Top Writers?
And if you've still got time on your hands, consider joining us as a writer, and make up your very own news stories!