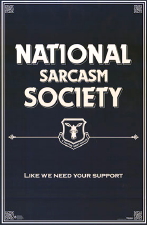 Screen Name:
Creepy McSordid
Creepy McSordid has published 22 items on The Spoof.
Check out Creepy McSordid's:
Latest Spoof News Story: Wednesday 13th July 2005
Spoofing since: Wednesday 18th May 2005

Homepage: http://oinotnow.blogspot.com/
Location: just a jump to the left...
Profile: Basically, I am insane but since I am able to hide this to a limited degree, I move freely in society's more awkward circles.

Let me help you to help yourself helping helpful people; I can be reached at creepymcsordid@gmail.com

Always remember: Quidquid latine dictum sit, altum viditur
Creepy McSordid's RSS News Feed
Creepy McSordid hasn't written anything in a while, so his/her news feed is seriously out of date!
If you want the latest up-to-the-minute spoof news, check out all our rss feeds.
While you're here, why not check our other Top Writers?
And if you've still got time on your hands, consider joining us as a writer, and make up your very own news stories!