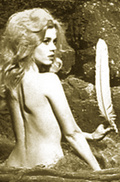 Screen Name:
Aphrodite
Aphrodite has published 11 items on The Spoof.
Check out Aphrodite's:
Latest Spoof News Story: Monday 12th November 2012
Spoofing since: Tuesday 12th June 2012

Location: everywhere
Profile: I am a single, professional woman engaged in a world wide search for hedonism, stimulation of all sorts, intellectual and otherwise, and enticing intrigue. Apolitical and agnostic I am a devotee of dark humor, a mere traveller thru a parallel universe of life. I welcome challenge but don't suffer fools lightly. I'll drop in when the spirit moves so do let the games begin.
Aphrodite's RSS News Feed
Aphrodite hasn't written anything in a while, so his/her news feed is seriously out of date!
If you want the latest up-to-the-minute spoof news, check out all our rss feeds.
While you're here, why not check our other Top Writers?
And if you've still got time on your hands, consider joining us as a writer, and make up your very own news stories!