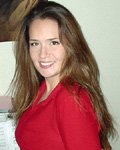 Screen Name:
Lady Sybilla
Lady Sybilla has published 11 items on The Spoof.
Check out Lady Sybilla's:
Latest Spoof News Story: Monday 4th January 2016
Spoofing since: Tuesday 10th January 2012

Real Name: Glorianna Arias
Homepage: http://gloriannaarias.blogspot.com
Location: Moved to Bakersfield
Profile: Lady Sybilla is the nome de plume of Glorianna Arias, a Costa Rican author and musician who writes about all things spiritual and cosmic, such as ascended masters, the chariots of fire, merkabas of ascension and the multidimensional army of the Melchizedek Priesthood in the etheric plane.

Confused yet?

In her spare time, Lady Sybilla studies the Bible, ancient occult mysteries revealed by the Cosmic Jesus in the Fourth Dimension, and teachings by Drunvalo Melchizedek's The School of Remembering.

Lady Sybilla also loves to write parodies, satires and spoofs, all of them dripping with sarcasm and biting dark humor.

Check out Lady Sybilla AKA Glorianna Arias' book on Amazon The Temple: A Reptilian Alien Movie Trilogy - Book 1: Descent to Inner Earth, a sci fi UFO conspiracy screenplay about the Reptilian Agenda of world domination. Really far out, wacky stuff for any paranoid geeks out there who like to read about mind control and government cover ups.

To get updates, follow Lady Sybilla on Twitter.
Lady Sybilla's RSS News Feed
Lady Sybilla hasn't written anything in a while, so his/her news feed is seriously out of date!
If you want the latest up-to-the-minute spoof news, check out all our rss feeds.
While you're here, why not check our other Top Writers?
And if you've still got time on your hands, consider joining us as a writer, and make up your very own news stories!