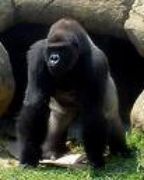 Screen Name:
Ghatotkacha
Ghatotkacha has published 12 items on The Spoof.
Check out Ghatotkacha's:
Latest Spoof News Story: Tuesday 27th April 2010
Spoofing since: Monday 6th July 2009

Location: India
Profile: I was born in the vicinity of Algol, the baleful star which the ancients in their ignorance believed to be a source of malevolent emanations. The truth is, I'm as gentle as a baby krait. I spent my childhood touring Andromeda with my Pa and Ma. I was home-schooled, and in due course graduated in Applied Sorcery (Hons) from the University of Betelgeuse in 3774 GE (that would be around 5480 BC by your clock). Since then life's been a bit of a whirl. My old pal Anhsirk keeps asking me to rescue his pals from all manner of scrapes. I don't mind, really...though sometimes it gets pretty rough, like that time when I had to take on a dude named Anrak during a big Property Dispute at a place named Koorru Kshetra down here in Terra... It'll be a while before the next Neutrino Tunnel turns up and I can move on to Cygnus. Meanwhile, why don't you join me in giving Al Qaeda, Lashkar e Toiba, Taliban, Dick Cheney and affiliated kooks a big raspberry: BRRRRAAAPP!
Ghatotkacha's RSS News Feed
Ghatotkacha hasn't written anything in a while, so his/her news feed is seriously out of date!
If you want the latest up-to-the-minute spoof news, check out all our rss feeds.
While you're here, why not check our other Top Writers?
And if you've still got time on your hands, consider joining us as a writer, and make up your very own news stories!